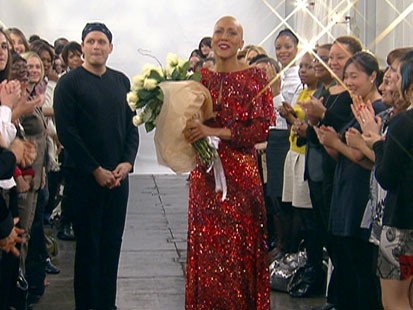 The only place I ever catch daytime TV is at the gym, and the other day I saw a teaser about
Good Morning America
anchor Robin Roberts and her upcoming stint as a model during New York's fashion week. Something about a quick training session with Tyra Banks, but nothing to get excited about. Well, I was wrong!
Remember, Roberts is the New Orleans native who reported on the devastation of her hometown after Hurricane Katrina. And last year, she was diagnosed with breast cancer and has chronicled her experiences with grace and honesty. Recently, as her hair began to fall out after undergoing chemotherapy, Roberts taped a segment in which her head was shaved. And though she wears a wig while on television, she appeared without it for a photo in
People.


So today, Roberts strutted the catwalk for Isaac Mizrahi's fashion show, wearing a gorgeous, red gown and lipstick to match. Gracefully and elegantly, she walked down the runway, and, this time, she did not wear a wig. "This is who I am," she said. And then, in true form, "I'm on the air without the wig and without underwear as well."
This girl definitely rocks!